CEO of Bosco Factory, earns recognition during conference | Featured# (communitynewspapers.com)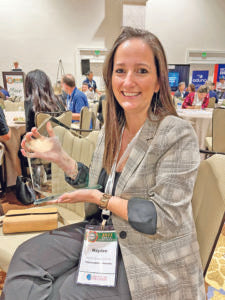 Haydee Gomez Garofalo, who earned her MBA at Millennia Atlantic University in Doral in 2015, was honored recently as the Florida Association of Postsecondary Schools and Colleges Alumna of the Year at the organization's annual conference.

Gomez is the founder of Gelato Gourmet and the CEO of Bosco Factory. She manages operations, while her brother and gelato chef Gelatero Gomez oversees flavor development.

The idea of creating an artisan dessert company struck Garofalo while she was working at a gelato store in Toronto.

"I just fell in love with the concept, and I decided I wanted to have my own store," she explained.
Gelato Gourmet was launched in 2014, selling homemade natural Italian ices in Doral Farmers Market every Sunday. By the end of the year, the company had expanded to nine new farmers market stands in Miami-Dade and Broward counties. In January of 2015, rapid growth allowed the company to open the first gelato store in Weston, and a new division of events and catering services for private parties and corporate functions.
In 2016, due to the increased sales to other restaurants and hotels, they expanded the operation to a frozen dessert manufacturer. Recently, in 2022, Gelato Gourmet was sold to an investor group, and Haydee Gomez recently launched Bosco Factory — a company dedicated to handcrafted frozen desserts to serve the food service industry in South Florida.
The first question was: "Where do you make it?" said Gomez, whose company includes a full-service Gelato Coffee Shop in Weston. "We want to show people that everything is made from scratch, and they can see it in our store."
She said she recommends MAU to anyone with an idea who wants to put it in black and white, build a business plan, and go forward to build their dream.
"I think Millennia Atlantic University was a great opportunity for me to create the business plan and to have an expert to review it and consult with," said Garofalo, who now teaches Small Business Management classes at MAU. "When you have an idea and you start working on it, but you don't have a business plan, it's very hard to actually execute the idea."
The FAPSC Alumnus/Alumna of the Year Award honors a student who has demonstrated academic excellence, made meaningful contributions to their institution and community, and demonstrated professional excellence and outstanding achievement in their chosen profession since graduating.
To be considered for this award, nominees must have demonstrated the ability to perform, achieve, and/or excel in scholastic activities, have an extraordinary commitment to improving their institution and community, and exhibit professional excellence and outstanding achievement in their chosen profession since graduating.
For more information on MAU, including its new TBB Bank School of Entrepreneurship, visit www.maufl.edu.


Source: https://communitynewspapers.com/kendallgazette/ceo-of-bosco-factory-earns-recognition-during-conference/